Regional Cancer Center Support Program
Home
NCCI
National Cancer Control Programs
Regional Cancer Center Support Program
Regional Cancer Center Support Program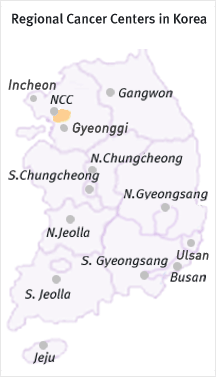 The regional inequality of cancer care get worse in Korea, as a scarcity of cancer care resources in the urban and rural districts except Seoul metropolitan area.

This concentration on Seoul makes a number of cancer patients living in the rest of the country not to realize their areas are a lot better.
They also strongly prefer to visit the hospitals located in the metropolitan area, which leads to additional medical expenses.

This tendency become more pronounced as cancer patients increase; therefore, the government designated three national university hospitals in provincial cities as the Regional Cancer Centers (RCCs) in 2004. The RCCs are provided with financial support for medical research and treatments. The other six national university hospitals in different local cities were nominated to RCCs from 2005 to 2006. In addition, the government intended to allocate more resources to local private university hospitals and designated three of them as RCCs in 2012.

The RCCs have to perform their jobs responsibly 1) to provide comprehensive clinical care for their regional cancer patients, 2) to facilitate the national cancer control programs at the regional level including cancer prevention and screening programs, and 3) to carry out population-based study among their community residents and cancer patients. The designated RCCs dramatically improved the local hospitals and made a great contribution to research in the treatment of cancer; furthermore, this program continues to advance cancer control activities in the regions and reduce cancer care inequalities between the regions in Korea.
Hospitals
Year
Hospitals
2004
3 National University Hospitals
(Chonnam(Hwasun), Chonbuk, Gyeongsang)
2005
3 National University Hospitals
(Chungnam, Pusan, Kyungpook)
2006
3 National University Hospitals
(Jeju, Kangwon, Chungbuk)
2012
3 Private University Hospitals
(Gachon Gil, Ajou, Ulsan)