Equipment
Home
Research Institute
Equipment
Reseach Institute Building, 1F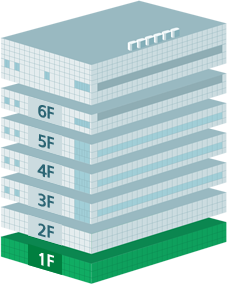 Histopathological System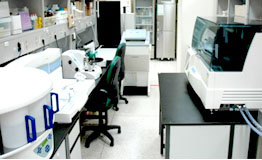 The system for histopathological analyses is essential for preclinical and clinical studies. It includes tissue processor, embedding center, microtomes and automatic stainer. The most difficult and laborious procedure in making slides is to cut specimen as thin as possible. The most common technique is a paraffin-processing by 'tissue processor'. Tissues are immersed in order in several baths filled with serially-diluted concentrated ethanol for dehydration, being followed by a clearing agent and infiltrated by melted paraffin.
At the last step, the soft tissues are poured into a hard paraffin block, embedded in the paraffin mold by 'embedding center'. The block is then sectioned into thin slices using 'microtome' and the sections placed on a glass slide for staining by 'automatic stainer'. Staining for tissue examination is required, since it is difficult to find out the differences of cell and tissue morphology. Furthermore, a number of researchers often perform immunostaining using antibody to know the specific protein expression or its modification in cell or tissue in situ cell or tissue. Such molecular biological tools aids in proving their theory. Finally, our facility also have a 'cryostat' for making sections of frozen tissue, a 'laser capture microscope' for taking specimens from slide and a 'automatic slide scanner' for producing virtual slides.
cGMP Facility for BioAtherapeutics Production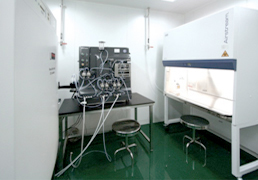 Biotherapeutics Production Branch manufactures immunotherapeutics, recombinant protein, gene-based, and cell therapeutics. Adoptive T cell therapy using tumor-specific T cells becomes one of most promising approaches to cancer therapy and even provides further options to the patients whose standard therapies failed.
As the leading hospital in cancer care, NCC established cGMP(current Good Manufacturing Pracitice) facility to produce autologous tumor-specific T cell therapeutics for phase I and II clinical trials.
Biotherapeutics Production Branch is functionally separated into two areas; cell production and quality assurance. Cell production area occupies three clean rooms equipped with 2 CO2 incubators and 2 biosafety cabinets, and quality assurance area takes another two clean rooms for bacteria, fungi, and virus tests.
Biotherapeutics Production Branch is currently producing EBViNT Cells (EBV/LMP2A-specific T cells) to treat EBV+ cancers, which is in phase I clinical trial. The Branch will soon produce WTiNT Cells (WT1-specific T cell therapeutics) for glioblastomas and TERTiNT Cells (hTERT-specific T cell therapeutics) for various types of solid cancers for phase I trials. By providing diverse T cell therapeutics for clinical trials through Biotherapeutics Production Branch, NCC will lead the adoptive T cell therapy field.
GMP Facility for BioAtherapeutics Production (Biotherapeutics Production Branch)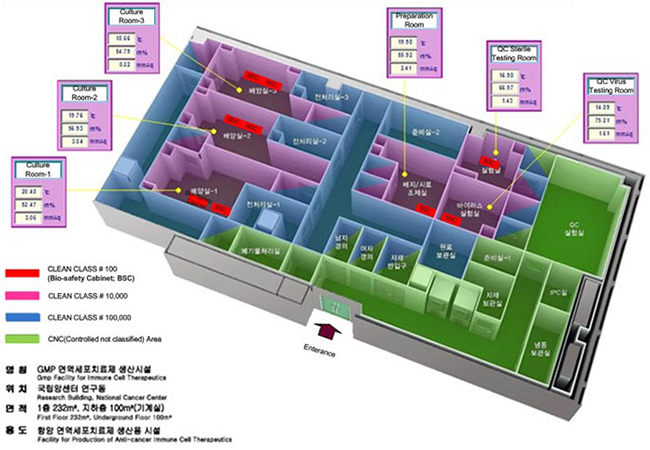 Clean rooms in Production area
The CGMP facility contains 3 Clean Area Separations (class 10,000 zone). An aseptic area (class 100 zone) in the Clean Area Separation has critical process equipments and is designed to maintain product sterility. All Activities conducted in the aseptic area include manipulations of sterile materials with Quality control system. The projects of the CGMP facility ensure that quality of products meets to CGMP requirements especially biomedicine.

Clean rooms in Quality assurance area
The GMP facility contains 2 Clean Area Separations in Quality Control test area for Viral/Microbes test and 1 supporting CNC area for physico-chemical test. Both of the semi-finished and finished products are being tested by Standard Operating Procedures and GMP policy under the CGMP requirements.